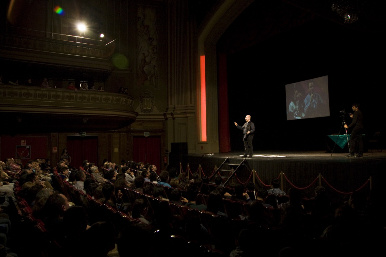 Bald Faced Liar
La Ilusión la pintan Calva

An innovative magic show where, through new technologies, I try to create the feelings of close-up magic to big audiences in a theatre.

Armed with a camera, a screen and a video-projector I perform with some guest spectators my little miracles with a deck of cards. As always, in a nice and happy manner.
REMEMBER IT! First price in the Spanish Card Magic Championship! Much better than Second price whatever they say! Guess why ;)



Around 100 minutes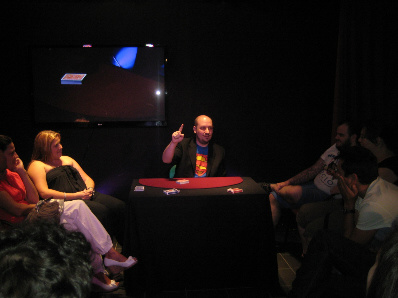 SuperWoody
A real close-up magic session. This is the show for dinners, private parties, and conventions with 30 to 70 people. After the event, spectators sit in rows around a large table, with the support of a camera and a screen: All attendees are sitting near the magician and can participate in the numbers to their desire. It creates a relaxed atmosphere, great camaraderie, and lots of shock and awe.

Jazz style, the show follows an ascending line, but with a lot of flexibility so I can cut, extend, or replace some tricks, to fit each audience.

Approximate length:
60 minutes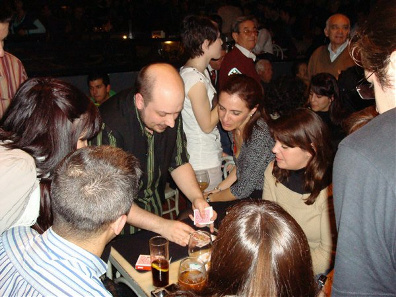 Close - Up
My speciality and the most versatile show: Magic few inches away from your very eyes. Ideal for cocktails, bar magic, private parties, promotions... The magician (so to say... me!) walks around the guests doing magic standing or in his own table.

Every new group will live a different, unique show as in this space improvisation is who rules the effects and the feelings according to the circumstances to astonish, entertain and to thrill.



From minutes to several hours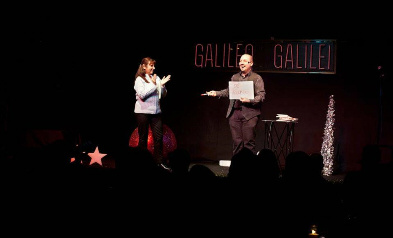 On Stage
Perfect show for stages, standing. With my usual sense of humour and my usual deck of cards, this show is mostly based on mental effects.

I will make the audience be involved and to participate (or even do magic with their own hands!) in a set of predictions, telepathy effects, coincidences, improvised tales, measuring cards, and many more little miracles showing mentalism as a nice and fun way to do magic close to the people.

It is said that Uri Geller learned how to bend spoons watching my show!



Around 50 minutes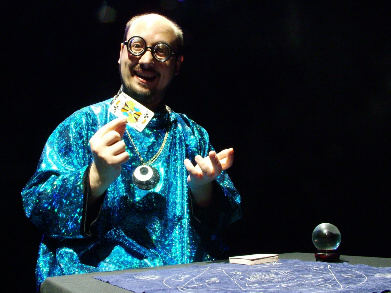 Doctor Aceves
Más allá que p'acá
Dr. Francisco de Aceves is an almost-smart being that, because the crisis, he became a fortuneteller because it was the only profession where he can see a future. Thanks to his tarot deck, his crystal ball, and incredible psychic powers, Dr. Aceves can see your future and your past, even your past tense.

Family show aimed at the younger members of the house, and also at the children.


Approximate length: 70 minutes.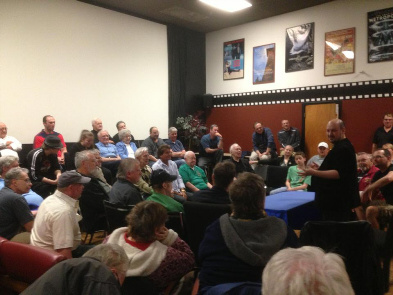 Lectures and Workshops

One of my main requirements from magic clubs and magic conventions is to give talks to other magicians. The usual format is the lecture (over 1h or 2h), but I also do workshops usually longer (4 to 9 hours!) focusing on my experience on a topic of our art. My main seminars are "Barajas Ordenadas" (Mnemo or/and Si Stebbins) and "The Structure of The Magic Act". For more information, please contact me via e-mail, or download the dossier on this page.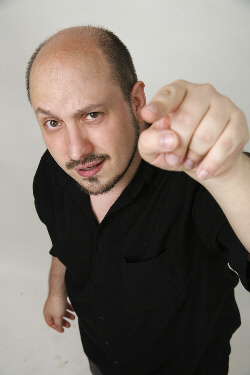 For you
And also ... Are you looking for something different? Special? Do me a proposal! Since I make a living from magic, I organized galas and festivals, presentations about a product, I have done magic for businesses and private parties, I have advised and participated in television and radio shows, or I have worked with a theme park. If you have an idea and you want to make it real, just send me an e-mail.